NEW S.T.E.A.M. FACILITIES ARE HERE


In March 2019, the vision to renovate portions of Bishop Montgomery's media center and adjacent spaces into STEAM (Science, Technology, Engineering, Art, Media) facilities was born and a grant proposal was submitted to Shea Family Charities. What was a dream at the start of 2019 has become a reality amidst the strange and new normal of the first half of 2020. Beginning in the Fall 2020 semester, students and faculty will have access to five new, state-of-the-art learning environments. We are excited to announce that construction was completed in October 2020 on new Robotics, Engineering, Computer, eSports, Language, and Art Laboratories.

In collaboration with Shea Family Charities, CSDA Design Group, and Del Amo Construction, the new renovations create a more centralized home for programs and classes that were housed throughout  campus, including our Project-Lead-the-Way engineering classes, robotics, and digital and fine arts. Renovations in the media center and adjacent spaces include the creation of a new consolidated IT Room; the renovation and reduction of the existing computer lab to include a robotics lab complete with competition "field"; the renovation of Room 205, which is currently a Mac/Art lab, into an engineering/maker lab; the renovation of the Educational Technology Coordinator's office; and the creation of a world languages and eSports lab. Renovations in the third building consisted of the renovation of Room 301 and the adjacent office space into a new Mac/Art Lab, which will be the new home for Yearbook, AP Studio Art, and other classes and clubs in graphic and digital arts.
Science - Technology - Engineering - Arts - Media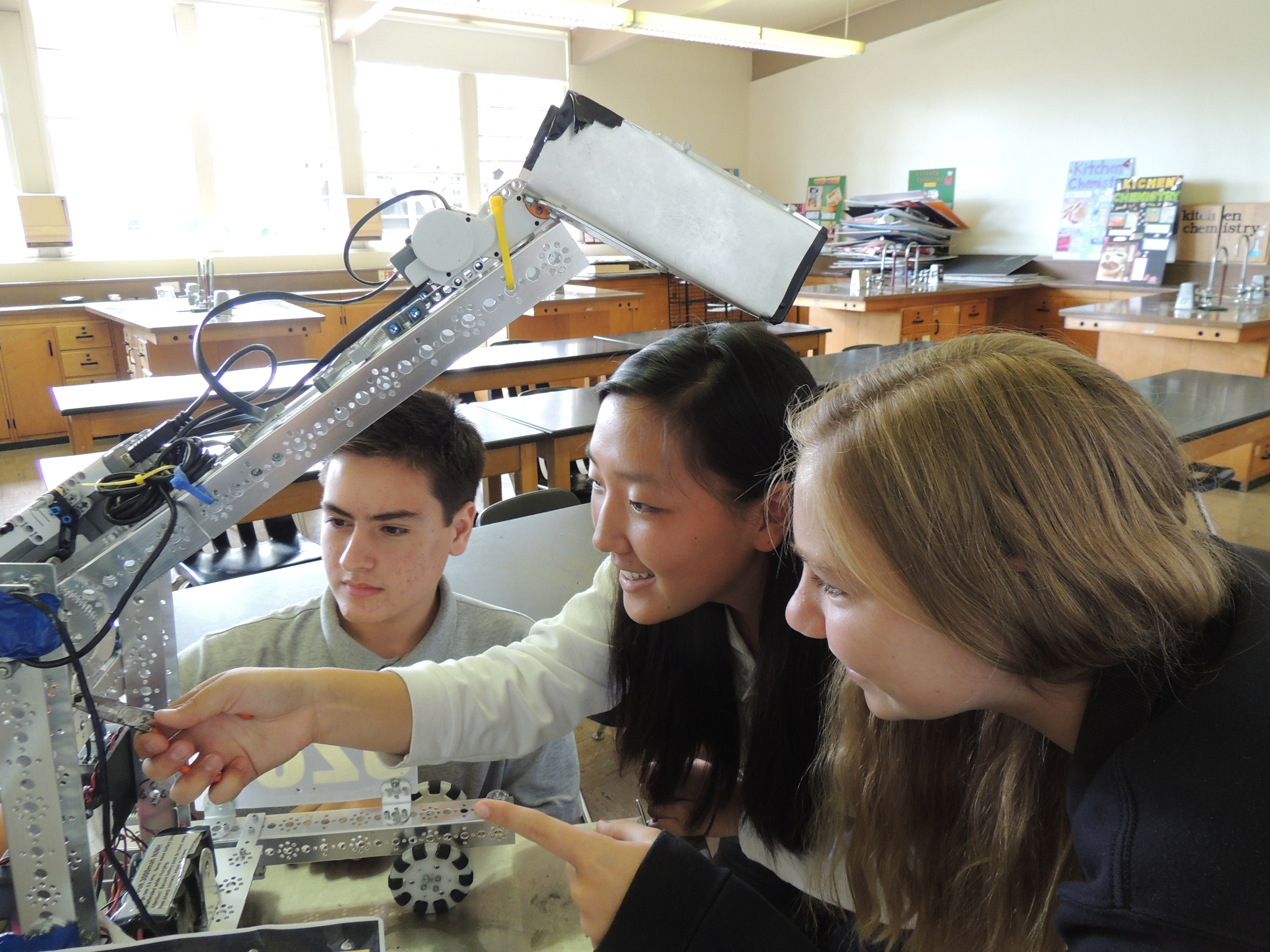 Bishop Montgomery offers STEAM educational opportunities for all students, regardless of course level or rigor. Through the integration of 1:1 technology in science, technology and computer science, engineering and media and art programs, our students emerge digitally-literate, and prepared to be competent, collaborative team members on local and global scales. Complementing our STEAM curriculum are nationally-recognized internships and clubs that provide BMHS students the opportunity for exposure to and advancement across many STEAM fields.
For more information in some of what Bishop Montgomery has to offer, click on the links to the right.