BMHS Athletic Hall of Fame Class of 2015:
Coach Marv Wood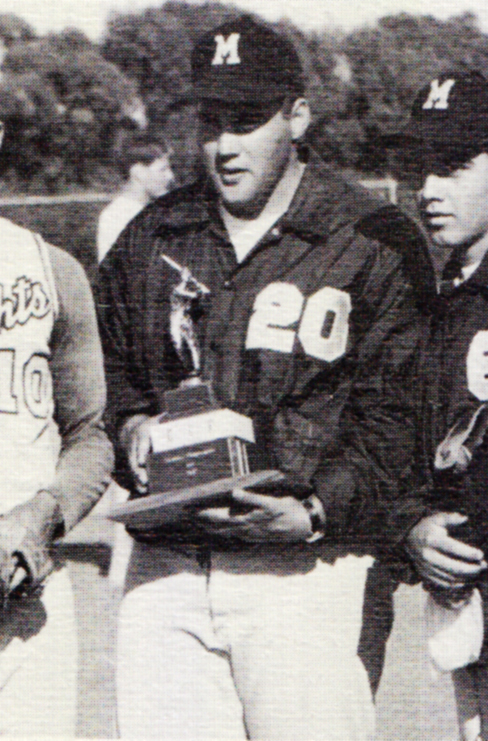 In his five years at Bishop Montgomery, Coach Marv Wood made quite an impact. From 1962 – 1968, Coach Wood taught anatomy & physiology, biology, and health. He also served as an assistant football coach under George Swade, and he was the Head Baseball Coach. As an assistant football coach, Wood played a vital role in the success of the Knights' football program during that era. In those five seasons, the Knights were 43-15 and won several league titles. It was on the baseball diamond, however, where Wood made his greatest impact. In 1967, he led the baseball team to a perfect 15-0 league record and a 21-3 overall record, which was capped off with the school's first CIF title in any sport. At one point, his 1967 squad won 19 straight games, which still stands as a school record for consecutive victories. He was named the 1967 State Coach of the Year by CalHiSports. His 1964 team shares the school record for fewest runs allowed in a season with 60. He had an overall league record of 57-19-1 in five years, including three league titles. His BMHS baseball teams won double-digit games each year he was at the helm and he coached 5 All-CIF players and 4 players who were taken in the Major League Baseball draft. Following his stint at BMHS, Wood became the head coach at Loyola University in Los Angeles (now known as Loyola Marymount University) from 1970-1984, where he won over 370 games. A native of Holtville, CA, Wood returned to his alma mater, Holtville High School, in 1989, serving as an assistant football coach, head baseball coach, athletic director and interim vice principal until his retirement in 1998. While at Holtville, Wood coached the baseball team to CIF-San Diego titles in 1991, 1993, and 1995. Wood is a member of the Holtville High School Green and Gold Hall of Fame, the Imperial Valley Football Coaches & Players Hall of Fame, and the San Diego Hall of Champions, where he was recognized as a High School Coaching Legend.
Lorna Kollmeyer '76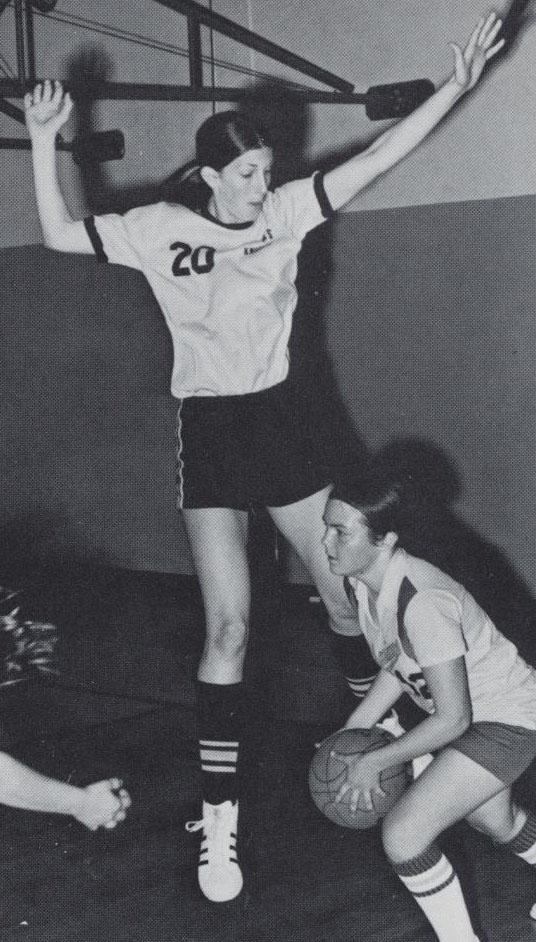 Bishop Montgomery girls' basketball has had a long history excellence, with an impressive resume of league, CIF, and state titles and an extensive list of decorated players. In fact, one student-athlete in program history can lay claim to being the program's first All-CIF player: Lorna Kollmeyer '76. One could say that Kollmeyer is the program's first star. From 1972-1976, Kollmeyer dominated on the court for the Lady Knights, leading the team to league titles as both a junior and a senior. She was a 4-year varsity player who stood out for more than just her size. With skills to match, she was one of the top players in Southern California while at BMHS, where she was an outstanding scorer and a prolific rebounder. She scored 1,143 points in her career and pulled down 1,500 rebounds. As a senior in 1975-76, Kollmeyer averaged 23.7 points per game, which still stands as the school record for a single season. Perhaps most impressive, however, is what Kollmeyer did in the rebounding department. As a senior, she averaged 24.6 rebounds per game – arguably one of the most impressive statistics any boy or girl basketball player has ever accomplished at BMHS. Following graduation, Kollmeyer went on to have a decorated playing career at Colorado College, where she was a 4-year letter winner and holds some impressive records. In addition to being the school's all-time career scoring leader with 2,109 points, she holds 4 of the top 7 single season scoring marks in program history, including the all-time record for points in a season with 625. She also holds the Colorado College career record in rebounds with 1,099 and is 2nd in single season rebounds with 321. Following graduation, Kollmeyer played one year of professional basketball in France and is believed to be the first woman in BMHS basketball history to play professionally. In 2001, Kollmeyer was inducted into the Colorado College Athletic Hall of Fame. Today, she is the owner of Lorna Kollmeyer Ornamental Plaster in San Francisco.
Nicole Haynes '92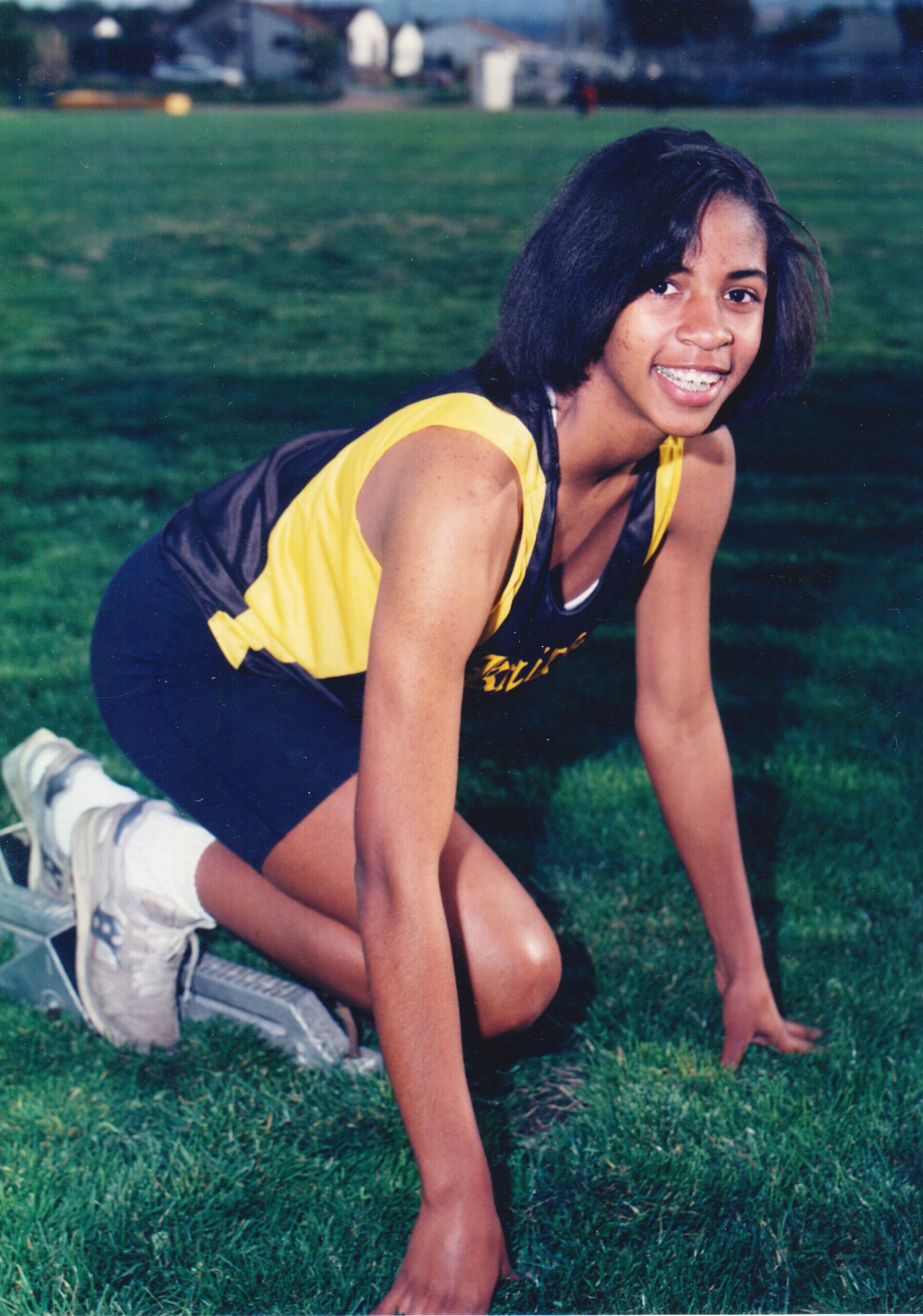 It is no surprise that following her career at Bishop Montgomery, Nicole Haynes '92 excelled on the college and international stage in track & field's heptathlon, a grueling combination of 7 events. Simply stated, Haynes did it all while at Bishop, and her accomplishments and versatility make her one of the greatest athletes in school history. As a freshman and sophomore, she played on the varsity soccer team, helping the Lady Knights to the CIF playoffs both years. And even though she only played one year of basketball, as a senior, Haynes showed her prowess on the biggest of stages. In that one year playing basketball, Haynes was named a 2nd Team All-CIF selection and helped lead the Lady Knights to the state finals in Sacramento, where she scored 16 points and pulled down 12 rebounds in a heartbreaking double-overtime loss. It was on the track where Haynes made her biggest mark athletically. She was a 4-year varsity letter winner, excelling in a variety of events. As a junior in 1991, she was the CIF champion in the 300m low hurdles in Division 2A in a time of 44.10, still a school record. As a senior in 1992, she won the CIF Division 2A title in the Long Jump with a mark of 19' 6 ½", also a school record. At the end of the year, she was named the 1992 BMHS Female Athlete of the Year. In all, she holds five school records in track (200m, 300 low hurdles, 4x100 relay, long jump, and heptathlon). Following graduation, Haynes went on to have a decorated track career at USC and internationally. At USC, Haynes was a 4-year letter winner who ranks in the top ten in several events, including 3rd in the heptathlon, 4th in the javelin, and 10th in the high jump. As a senior in 1996, Haynes was the Pac-10 Champion in the Heptathlon and was the runner-up at the NCAA finals. She was named a 1996 All-American. After receiving her degree in Exercise Science, she competed internationally for several years. In 1999, she won a bronze medal in the heptathlon at the PanAm Games. In 2000, she finished 5th in the heptathlon at the US Olympic trials and in 2003, she won a silver medal at the PanAm Games.
Katie Olsovsky '00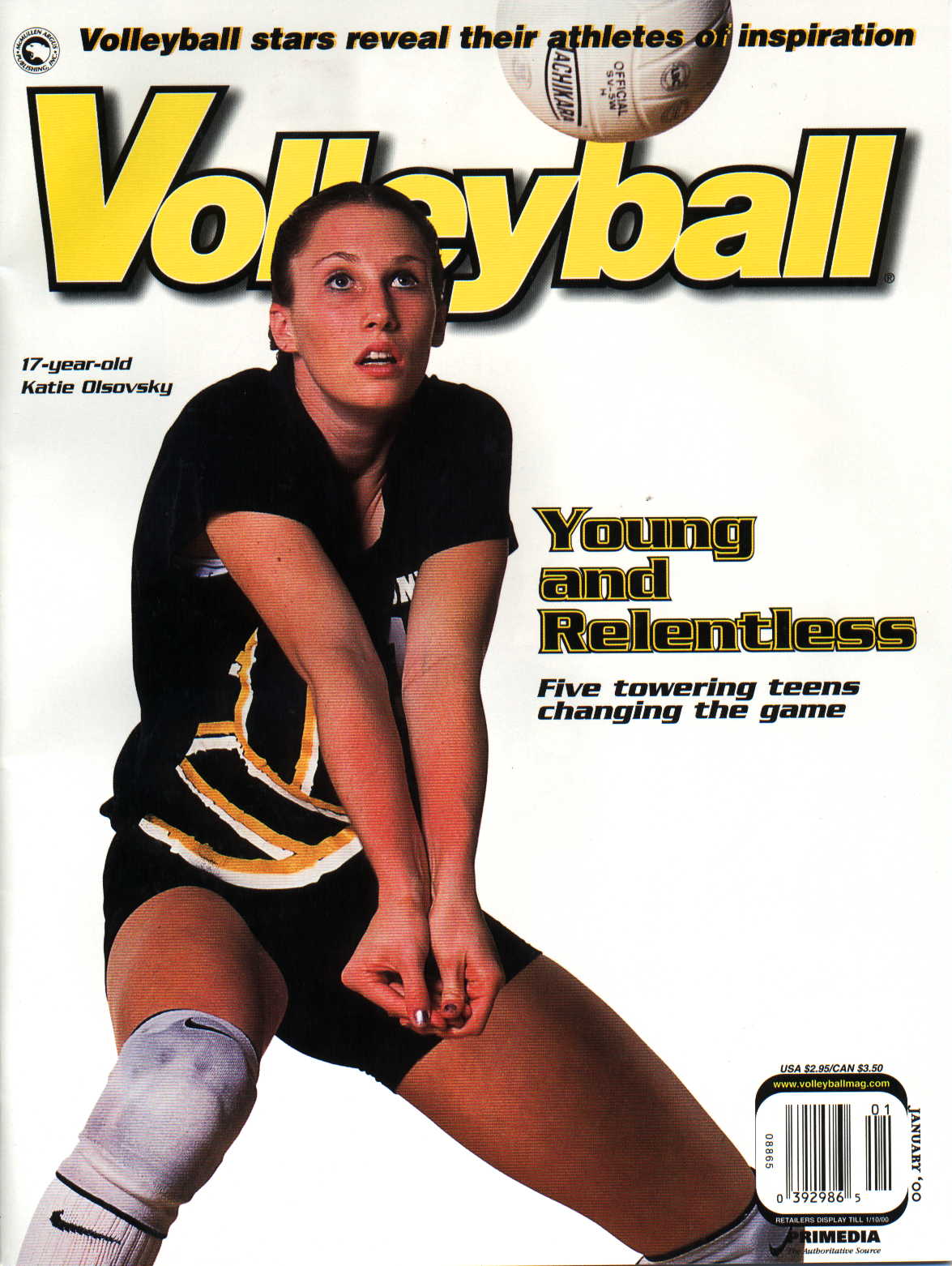 For Katie Olsovsky '00, it is not a matter of "if" she won an award in volleyball at Bishop Montgomery, it is, rather, how many times she won an award. As a 4-year varsity letter winner, she amassed an impressive list of individual accomplishments and led the girls' volleyball program to many notable team accomplishments. She was a 4-time 1st Team All-Del Rey League selection and 3-time league MVP. She earned 1st Team All-CIF honors all four years, including player of the year honors as a junior and a senior. In fact, she is the only player in program history to be a 4-time All-CIF pick and one of four athletes in any sport at BMHS to be named All-CIF all four years. Olsovsky also earned Daily Breeze All-Area honors all four years and was the publication's player of the year in 1999. To top it off, she was named an All-American at BMHS in 1998. While Olsovsky was collecting awards, so were the teams she played on at BMHS. She helped lead the Lady Knights to a pair of Del Rey League titles, three CIF titles (in 1996, 1998, and 1999) and two state titles (in 1996 and 1998). She also holds the BMHS career records for kills (1,512) and blocks (662). If all this was not impressive enough, she excelled academically at BMHS, making the Dean's list every semester. When she was not helping the Lady Knights win championship banners, Olsovsky was competing for the United States. While at BMHS, she was a 4-year member of the USA Volleyball Youth National Team and in 2000, was selected for the Junior National Team. Upon graduation, Olsovsky was named 2000 BMHS Female Athlete of the Year before accepting a scholarship to play at USC. Topping those high school accomplishments would be a difficult task, but Olsovsky was up to the challenge in her four years at USC. At SC, she earned All-Pac 10 honors every year, including 1st team honors twice. She was also a 4-time AVCA All-Region selection, a 3-time NCAA Regional All-Tournament pick, and, in 2001, she was named All-American for the Trojans. Perhaps her greatest accomplishments at USC came in her junior and senior years, when she played a vital role in helping USC win back-to-back National Championships in 2002 and 2003. During those two years, she helped USC to an incredible record of 66-1. In the 2002 NCAA title match, Olsovsky led the Trojans with 16 kills, including the final point. Olsovsky finished her playing career among USC's top 10 in 7 categories. From 2010-2014, she served as Director of Operations for USC's Women's Volleyball program and received a Master's degree in Aging Services Management. She currently works as an Executive Assistant for Analysis Group (an economic, financial and strategy consultants firm). She also coaches at SCVC (Southern California Volleyball Club) for the 18 and under division and has been coaching youth volleyball for the last 6 years.​
Derrick Craven '01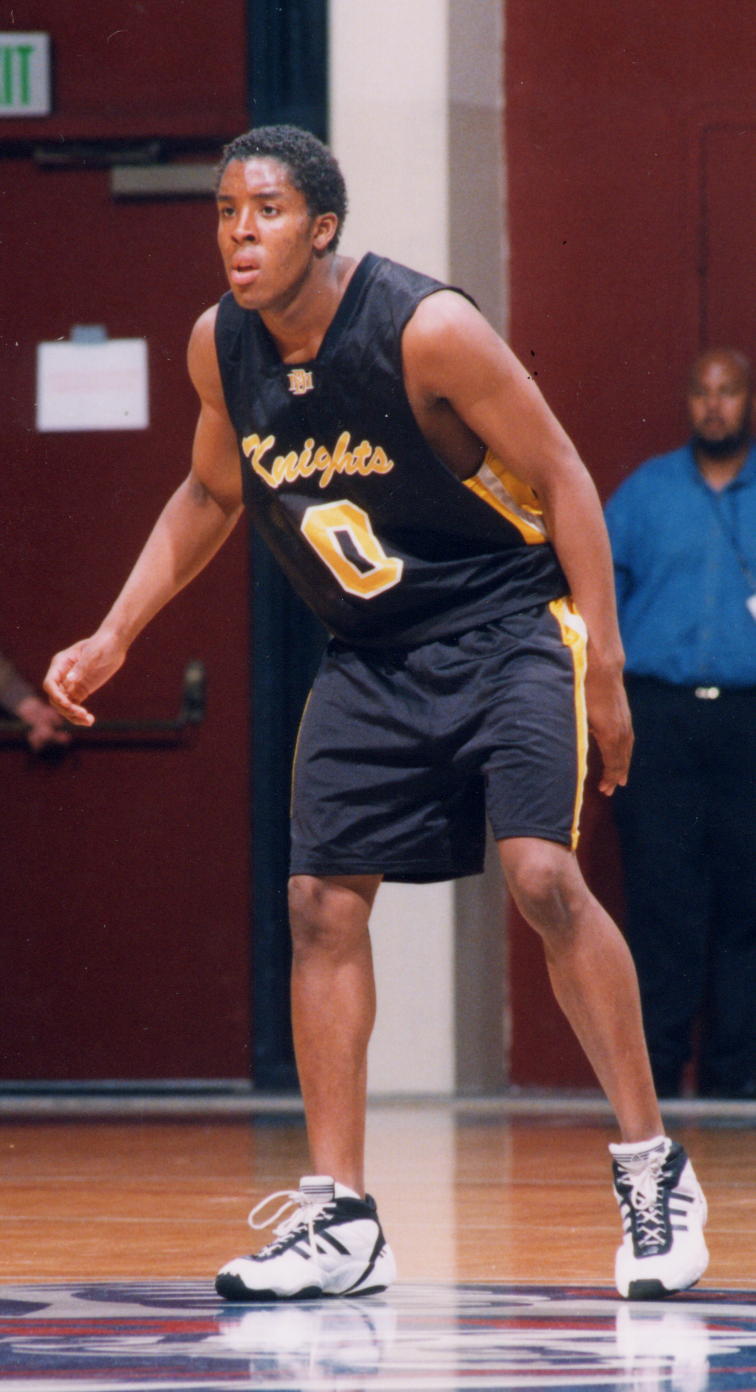 Boys' basketball coach Doug Mitchell calls Derrick Craven '01 "the toughest player I ever coached." With the star-studded list of players Mitchell has coached, that quote alone might have been enough to induct Derrick into the Athletic Hall of Fame. But one look at his accomplishments on the court, and it is easy to see why he is being honored. In four years as a varsity player, Derrick helped lead the Knights to a record of 104-20, including 3 Del Rey League titles, and back-to-back CIF and State titles in 1999-2000 and 2000-2001. The state titles were the first in program history. A tremendous all-around player, Derrick scored over 1,500 points, pulled down over 500 rebounds, and dished out over 500 assists in his career at BMHS – believed to be one of only two or three players in school history to accomplish this feat. He accomplished these numbers while usually guarding the other team's best player. As a sophomore, Derrick was named both 1st Team All-Del Rey League and 1st Team All-CIF after averaging 12.4 points a game. As a junior and senior, he was named co-Del Rey League MVP and co-CIF Player of the Year along with his brother, Errick. He also added some all-state hardware to his trophy case in his junior and senior years. As a junior, he was a 1st Team Division III and 1st Team All-Junior pick. As a senior, he was again named 1st Team Division III and Elite 2nd Team selection. Additionally, Derrick garnered Daily Breeze All-Area honors after his sophomore, junior and senior seasons and he was 2001 BMHS Male Co-Athlete of the Year. Following graduation, Derrick and his brother accepted scholarships to continue their playing careers at USC. In his four years at USC, Derrick played in 95 games and averaged 4.3 points and 2.3 assists per game. In 2003, he won the award as USC's top defensive player. He graduated in 2005 with a degree in economics and in 2008, received his MBA from USC. He is currently working as a business consultant for Wells Fargo in the San Francisco Bay Area.
Errick Craven '01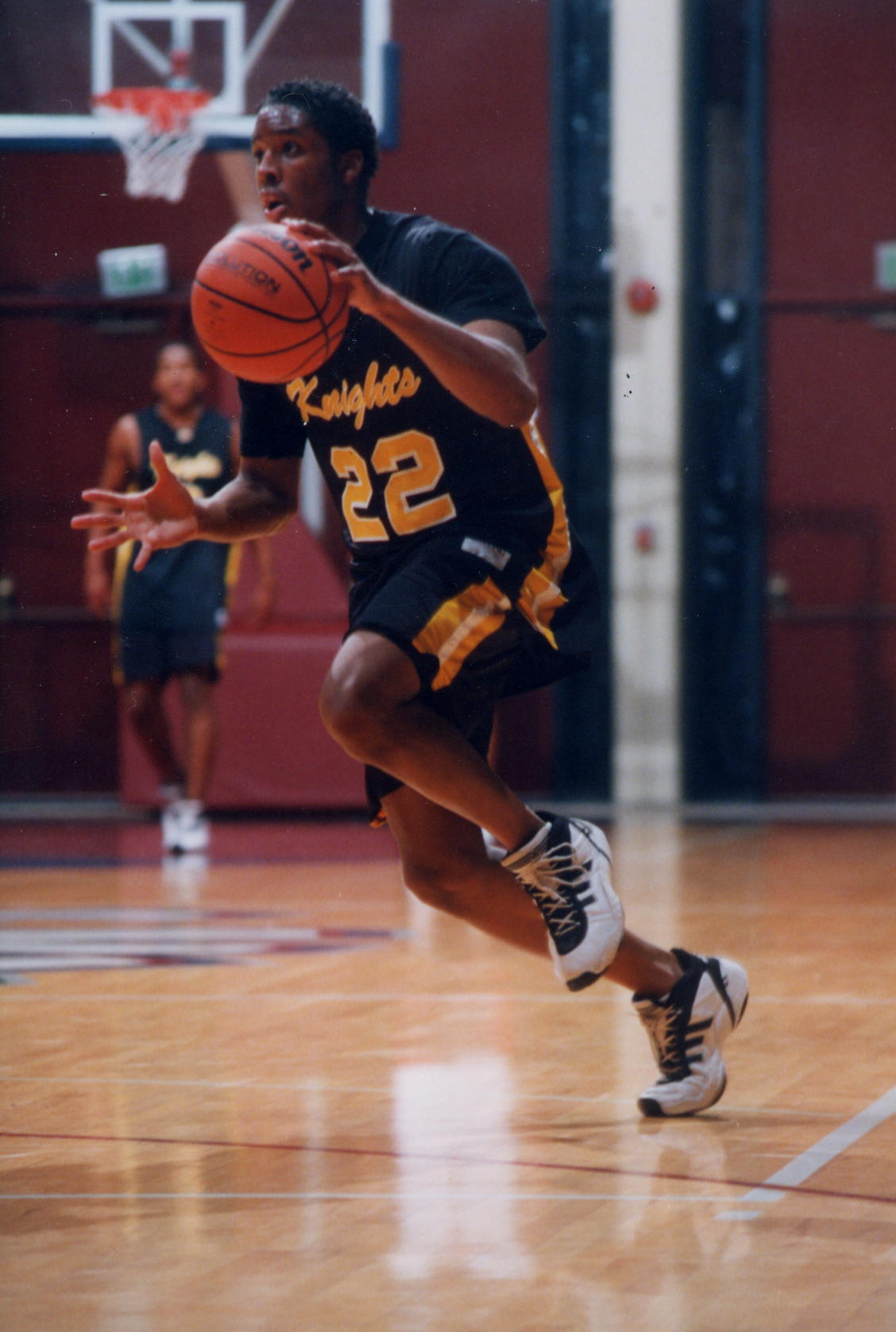 Errick Craven '01 began to make his mark in BMHS basketball history at the outset of his career. As a freshman in 1997-98, Errick scored 22 points in the Knights' CIF Finals loss. As a sophomore, he averaged 18.2 points per game as the Knights made another CIF Finals appearance. As a junior, Errick, along with his brother, Derrick, helped the Knights break through and win the program's first CIF title since 1967-68 and they followed that up with another CIF title as seniors. In all, Errick was a huge reason why, during his four years, the Knights won 3 Del Rey League titles, 2 CIF titles, and 2 state titles. By the time he graduated in 2001, Errick's trophy case was overflowing. He was a 3-time Del Rey League MVP; a 3-time 1st Team All-CIF selection; 2-time CIF Player of the Year; the 2000-01 State Player of the Year; 3-time Daily Breeze All-Area selection, including twice being named Daily Breeze Player of the Year; 2-time John R. Wooden Division III High School Player of the Year; 2001 BMHS Male co-Athlete of the Year; and a 2000-01 All-American. His all-state selections include being named 1st Team Division III and 1st Team Sophomore in 1998-99; 1st Team Elite, 1st Team Division III and 1st Team Junior in 1999-00; and 1st Team Elite to go with his Division III player of the Year award in 2000-01. In all, he scored 2,113 points, a record that stood until this past season, and he is one of only three players in program history to score over 2,000 career points. After graduation, Errick, along with Derrick, continued his playing career at USC. In 105 games played for the Trojans, Errick averaged 11.0 points per game and ranks 2nd all-time at USC in single season steals (73) and career steals (224). In fact, he led the Pac-10 in steals in each of his first three years. As a freshman, Errick was named to the All-Pac-10 Freshman team and he finished his career as a member of USC's 1000-point club. He graduated in 2005 with a degree in economics. After graduating from USC, Errick continued his playing career, playing professionally in the NBA-Development and all over the world, including in Turkey, Venezuela, and France. Errick, who obtained dual-citizenship in the Ivory Coast, also competed for the Ivorian Coast national basketball team.
Coach Doug Mitchell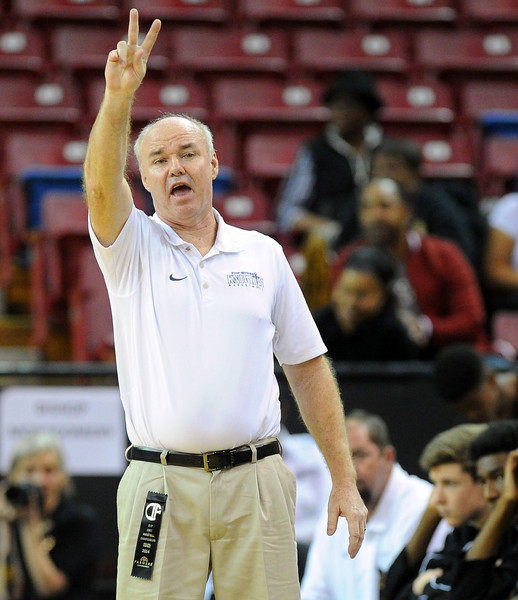 In the 31 seasons of BMHS boys' basketball from 1958-59 – 1988-89, the program certainly had its share of success. The boys' basketball team won 4 league titles in that span, made the CIF playoffs 9 times and, in 1967-68, the first CIF boys' basketball title was won. When Doug Mitchell was hired to take over the program in 1989, a new era of BMHS basketball success was about to be unleashed - an era that continues today. Since Mitchell took over the boys' basketball program, the Knights have not only been a southern California powerhouse, they have been one of the best programs in the state and have made their way into the national rankings as well; they have done so by combining an up-tempo style with suffocating defense. Along the way, Mitchell has solidified his place as one of the best, and most highly respected, coaches in the state. He has an overall career record of 601-201 in 28 years, which includes 2 years as head coach at his alma mater, South Torrance, prior to coming to Bishop. In his 26 years at BMHS, Mitchell has led the Knights to 18 seasons of 20-plus wins, 16 league titles, including the last three straight, 5 CIF titles, including the 2014-15 Open Division title – considered the toughest division title to win in the country, and 3 state titles. In all, he has taken the Knights to a total of 8 CIF finals and 4 state finals and in a 7-year stretch from 1995 – 2002, the boys' basketball team reached the CIF finals 6 times. The list of players he has coached at BMHS is impressive. Mitchell has coached 8 CIF Players of the Year, 3 State Players of the Year, 8 Daily Breeze Players of the Year, 5 John R. Wooden High School Players of the Year, and 3 All-Americans. Additionally, 29 players have garnered a total of 44 All-CIF selections, 32 have gone on to play collegiately, and 6 have gone on to the professional ranks. Not one to think of personal accolades, Mitchell has been named CIF Coach of the Year 5 times, Daily Breeze Coach of the Year 4 times and State Coach of the Year twice, including being named CalHiSports overall coach of the year in 2013-14. He continues his work as the head college guidance counselor here at BMHS.