BMHS Athletic Hall of Fame Class of 2013:
Forrest Hunt '61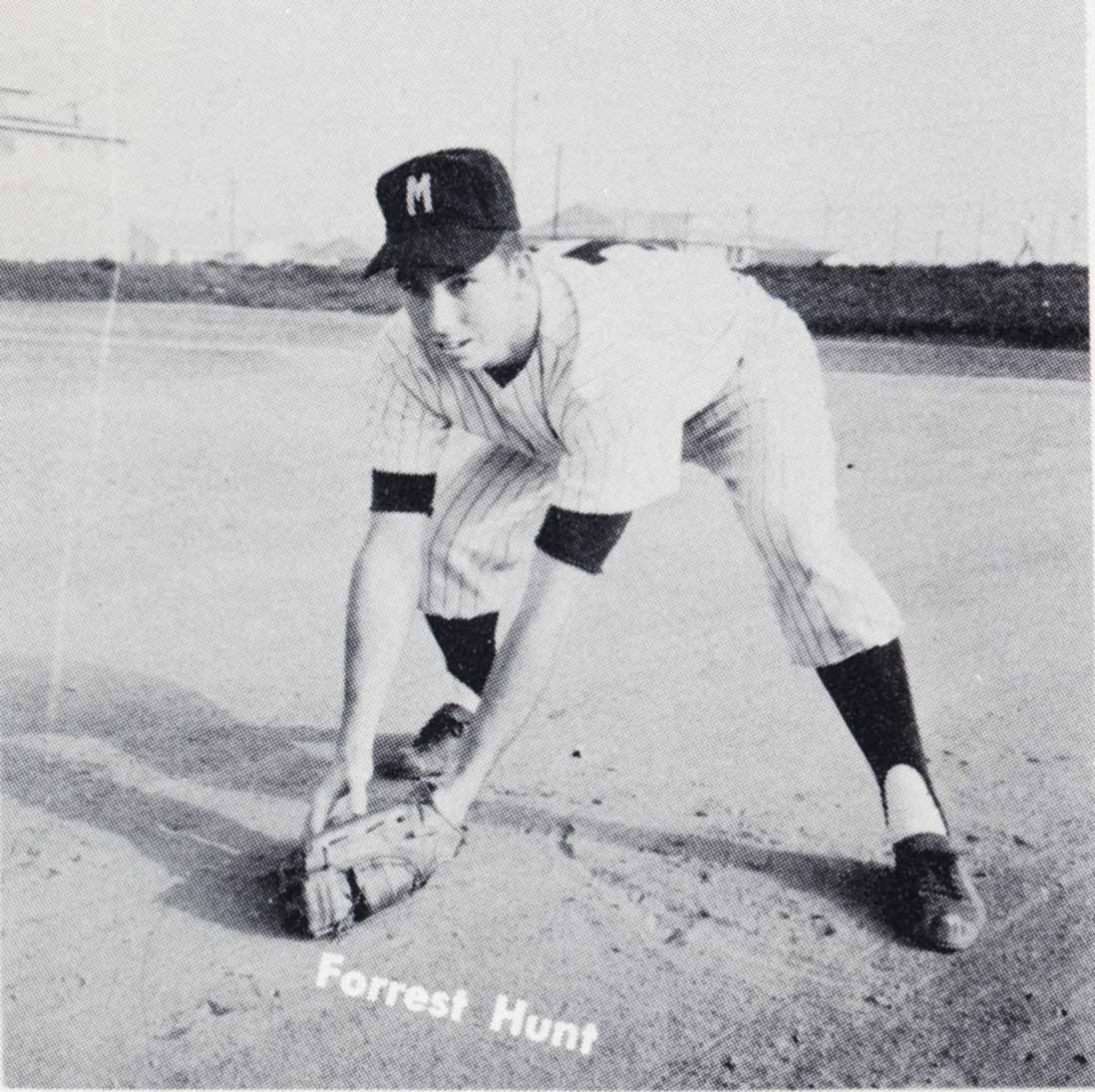 Forrest Hunt can truly be called the first "star" student-athlete in Bishop Montgomery's history. He earned 9 varsity letters in five different sports: football (3), basketball (1), baseball (3), tennis (1), and track (1). He was twice named BMHS Athlete of the Year (1959 and 1961) and was the Sportsman of the Year in 1961. He was also named BMHS Scholar-Athlete of the Year in 1959 and 1961 and was a voted captain of the football and baseball teams three times each. A standout in every sport he played, Forrest is perhaps best known for his accomplishments on the baseball field. As a shortstop, he was a 3-time first team All-Camino Real League selection and was named league MVP in 1961. As a senior, Forrest had a batting average of .512, the BMHS single-season record for 43 years before it was broken in 2004. He led the Knights to consecutive league titles in 1960 and 1961. Following graduation, Forrest was offered a contract to sign with the Chicago Cubs, but he chose to attend the seminary instead. After almost two years, Forrest left the seminary to go back to school. He attended Loyola University in Los Angeles where he played baseball for two years. Following graduation from Loyola, Forrest married Jo Ann Roberts (BMHS class of 1962) and went to work for the Torrance Unified School District where he taught and coached for 38 years at Torrance and South Torrance High Schools.

Irl Davis '66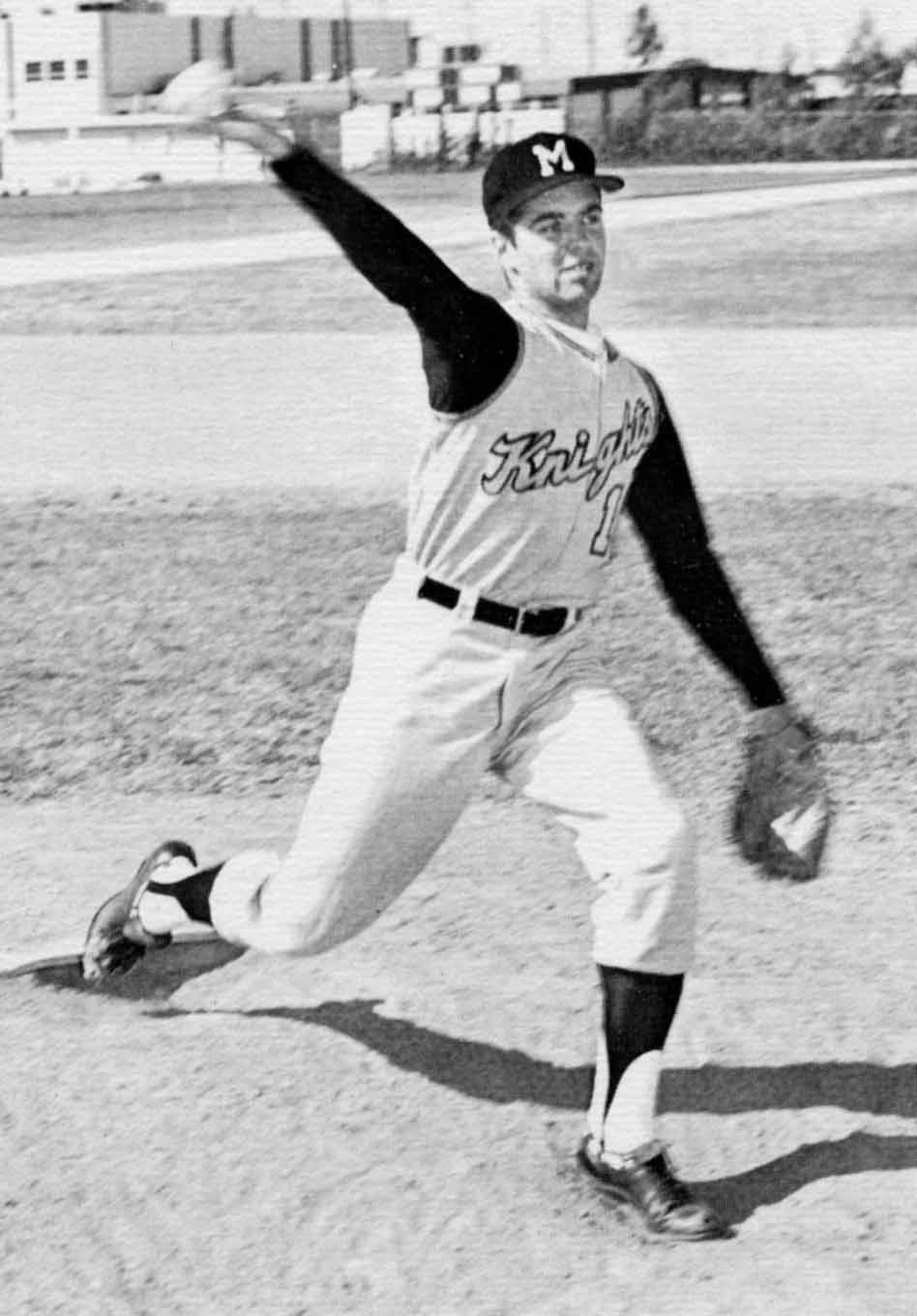 Irl Davis earned one varsity letter in football and three in basketball, but he has the distinction of being the first baseball player in school history to earn a varsity letter all four years. Following his sophomore, junior, and senior seasons, he was named All-Camino Real League and was named the league's MVP as a senior. A great two-way player as both a pitcher and an outfielder, Irl was named 2nd Team All-CIF as a senior after batting .349 and was named BMHS Sportsman of the Year in 1966. He holds two BMHS pitching records that will be difficult to duplicate. In 1964, Irl, only a sophomore, struck out 20 batters in a 9-inning 4-3 win over St. Bernard's. It still stands as the BMHS single game record for strikeouts. Irl also threw an impressive 4 no-hitters at BMHS, one in 1963, one in 1964, and back-to-back no-hitters in 1965. He helped lead the Knights to consecutive league titles in 1965 and 1966. Following his senior year, Irl became the first player in school history to be selected in the major league baseball draft, going to the California Angels in the 21st round. He turned down the Angels, instead opting to attend Cal Poly Pomona and playing before suffering an arm injury. He entered the business world where he worked for many years before retiring as the manager of a pharmacy.
Mike Gonzales '82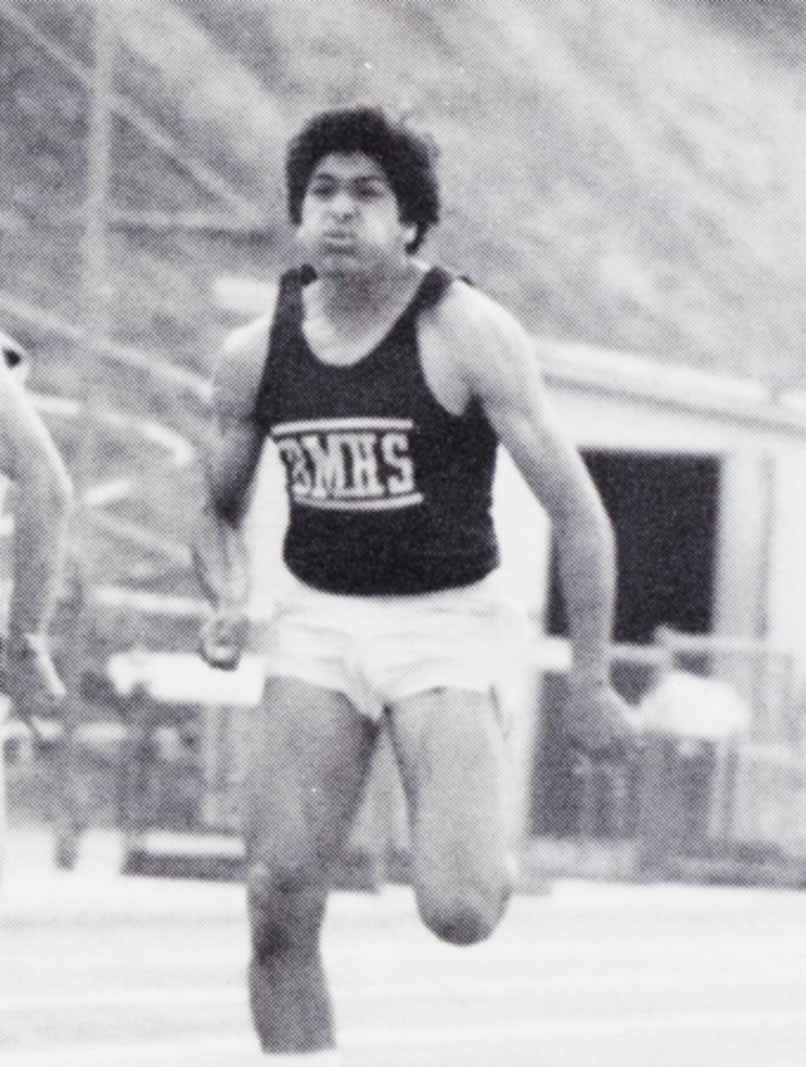 Mike Gonzales is one of the most decorated male track and field athletes in BMHS history, but his accomplishments do not end there. The 1982 male athlete of the year, he was also an outstanding running back for the Knights, earning 3 varsity letters and being named All-Angelus League and All-South Bay in 1981. It is in track and field, however, where Mike truly shined. Competing in such events as the 100m, 200m, 110m high hurdles, 300m hurdles, and the high jump, Mike was an 8-time All-Angelus League selection. He also earned All-CIF accolades in the 110m high hurdles and the 300m hurdles and qualified for the state finals in the 110m HH. While a student at BMHS in 1980, Mike was the US Junior Olympic National Decathlon champion and set the national 15-16 age group decathlon record with 6,505 points. Following his graduation, Mike attended USC where he lettered in track & field all four years as a Trojan. While at USC, Mike competed in the 1984 United States Olympic Trials where he set the school record in the decathlon with 8,022 points, a mark that still stands today. He was named a 2nd alternate in the decathlon for the 1984 US Olympic Games. Also in 1984, Mike finished third in the decathlon at the NCAA Championships with 7,809 points. Mike went on to compete at two other US Olympic Trials in 1988 and 1992. 1987 proved to be a great year for Mike, as he won gold medals in the decathlon at the US Olympic Festival and the Pan American Games. Mike is a motivational speaker to youth across the western United States and has appeared in over 25 national commercial ads.
Carmelita Jeter '98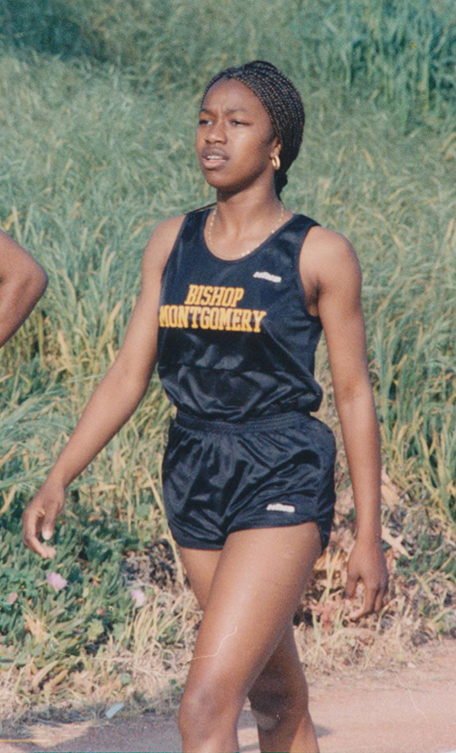 It is probably safe to say that Carmelita Jeter is one of the greatest female track athletes in Bishop Montgomery history. That's what you get when no woman alive today can say they are faster than you. Carmelita began her high school career at BMHS as a basketball player and actually had to be convinced to go out for track in her sophomore year. It proved to be a great move. By the time she was a senior, Carmelita was one of the top runners in the state, finishing 4th in the 100m at the CIF Finals in a time of 11.88, a time that qualified her for the prestigious CIF Master's meet. She was the 1998 Co-Female Athlete of the Year at BMHS. Following graduation, Carmelita went on to have a decorated career at Cal State Dominguez Hills where she holds the school record in the 100m (11.43) and the 200m (23.65). She was a 3-time runner-up in the 100m at the NCAA Division II National Championships and by the time she graduated with her degree in physical education, Carmelita was a 6-time All American. Carmelita returned to BMHS in 2005 as the head track & field coach for both boys' and girls', a position she held until 2008. During that time, she led both squads to multiple league titles (in 2005 and 2006). After having some success in both 2007 and 2008 in her own running, Carmelita left coaching following the 2008 school year to concentrate full-time on her own track career - a career that was about to take off. In September of 2009 at the Shanghai Golden Grand Prix, Carmelita ran the 100m in a time of 10.64 to become the second-fastest women ever behind the late Florence Griffith-Joyner and earned the title of "Fastest Woman in the World." In 2011, Carmelita won gold in the 100m at the USA Track & Field Championships in a time of 10.74 to capture her first national title. A few months later, Carmelita claimed her first world title when she won the 100m at the IAAF World Track & Field Championships in Korea in a time of 10.90. Later in 2011, she won the Jesse Owens Award, the highest honor given by USA Track & Field and she was named Sportswoman of the Year by the LA Sports Council. In 2012, Carmelita became the first athlete in BMHS history to represent the United States in the Olympics – and what an Olympics it was. She took home the silver in the 100m in a time of 10.78 and a few days later won bronze in the 200m in 22.14. With medals in both the 100m and 200m, Carmelita became the first American woman to medal in both events in the same Olympics since 1988. Her final race of the 2012 London Olympics – the women's 4x100 relay – proved to be one of the signature moments of the games. Carmelita and her teammates captured the gold medal in a new world record time of 40.82, shattering the 27-year old record of 41.37 set by the East Germans. Carmelita provided one of the great photos of the games by pointing at the clock as she crossed the finish line. Today, Carmelita is involved in helping many charities and she continues to run professionally as she aims for another shot at the Olympics in 2016.
Noelle Quinn '03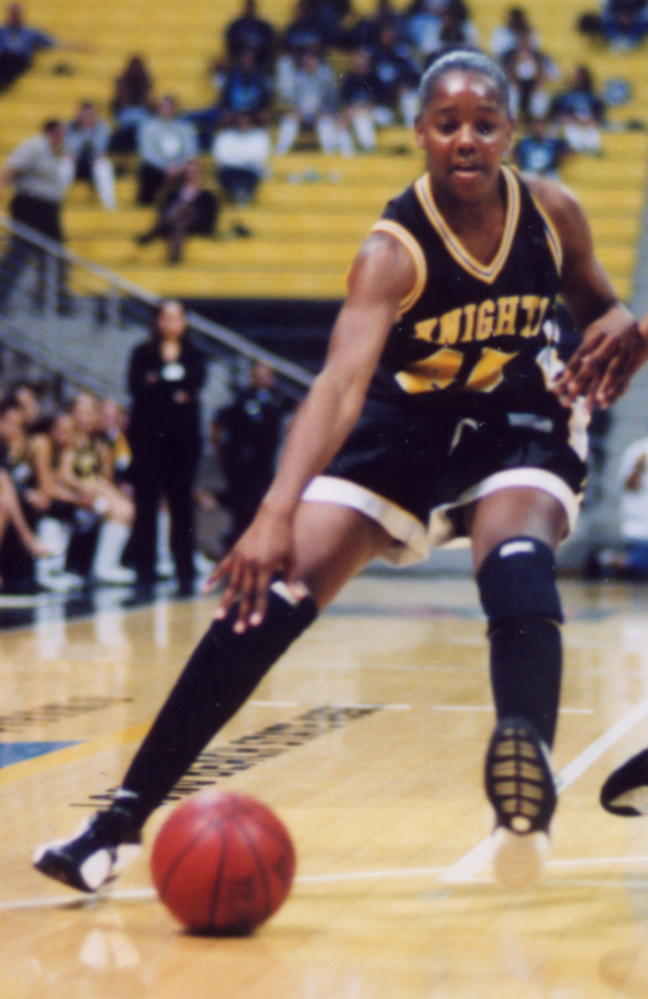 There have been many outstanding student-athletes at Bishop Montgomery, but perhaps no one is more decorated than Noelle Quinn. As a member of the girls' basketball team, Noelle led an already prestigious program to even newer heights. During her four years at BMHS, she led the Lady Knights to four Del Rey League titles, 3 CIF-SS titles (they lost in the finals her sophomore year), and four State titles. She was the Del Rey League MVP as a sophomore, junior, and senior, the CIF and State Player of the Year all four years and an All-American every year except as a freshman. Following both her junior and senior seasons, Noelle was named the Daily Breeze Player of the Year and the Los Angeles Times Player of the Year. She is the first girls' basketball player in CIF-SS history to be named CIF-SS Player of the Year four times. Following her senior season of 2002-03, Noelle was named the Gatorade California State Girls' Player of the Year, an All-American by Parade Magazine, USA Today, Street & Smith's Magazine, the Women's Basketball Coaches Association, and she earned McDonald's All-American status. On March 26, 2003, Noelle became the first basketball player in school history, male or female, to play in the prestigious McDonald's All-American game. She finished her basketball career at BMHS as the all-time scorer at 2,764 points. Her #45 was retired by the girls' basketball program on January 30, 2007. Quinn was also a standout for the BMHS volleyball team. She helped lead the team to a CIF title as a freshman, 2 league titles (sophomore & junior) and a CIF finals appearance as a junior and was the Del Rey League MVP and a 1st Team All-CIF selection. In her senior year, the Lady Knights won both CIF and State titles and Noelle was named the CIF Player of the Year, 1st Team All-State, and the Daily Breeze Player of the Year. Perhaps most impressive about Noelle's career at BMHS was that she was named a scholar-athlete all four years, carrying a GPA well over 4.0. Following graduation, Noelle accepted a scholarship to UCLA where she had an outstanding career. She finished her career ranked in the top 10 in fourteen different categories, including points (4th), rebounds (8th), and assists (7th). In fact, Noelle is the only UCLA player, male or female, to total at least 1,700 points, 700 rebounds, and 400 assists for a career. She earned 1st Team All-Pac-10 honors three times, was the Pac-10 Freshman of the Year, and a 2-time honorable mention All-American. She was selected 4th overall in the 2007 WNBA Draft by Minnesota. She spent two years in Minnesota before being traded to her hometown Los Angeles Sparks, where she played for three seasons. She has also played for the Phoenix Mercury and she has had two stints with the Seattle Storm, where she currently plays.
Dr. Rodney Stetson (posthumously)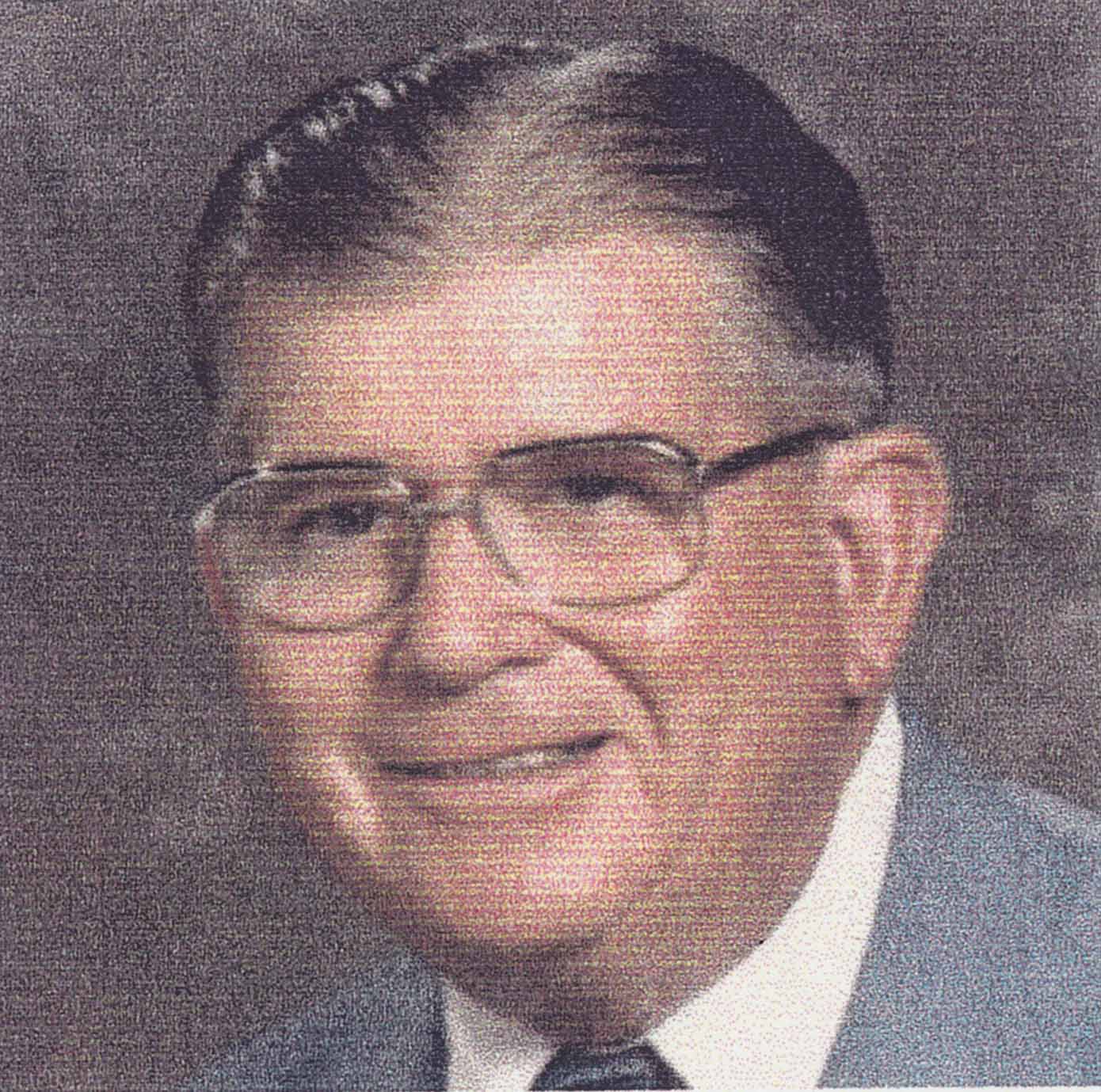 "Doc" Stetson served as the team physician for Bishop Montgomery athletic teams from 1959-1976, but he is known in the school community for more than just what he did to help athletes. In his service to BMHS, Dr. Stetson provided medical care for the Franciscan Friars, nuns, and athletes alike, and was a fixture at many athletic events. He often donated medical supplies, provided therapy equipment, personally transported injured athletes when necessary, and was known to make house calls free of charge in support of Bishop Montgomery. Dr. Stetson graduated from St. Mary's College in 1937, first in his class in pre-med. He married his wife, Claire, in 1940, and in 1946, he graduated from USC's Keck School of Medicine. His legacy in the South Bay, and most notably Torrance, will forever be felt. He served as chief of staff at Torrance Memorial Hospital and was one of the founding physicians at Little Company of Mary Hospital. On October 15, 1999, Bishop Montgomery dedicated its weight room to Dr. Stetson as a tribute to his generosity, dedication, and loyalty to the school. The plaque presented to his family that night permanently hangs outside the "Doc Stetson Memorial Weight Room." Dr. Stetson passed away on April 11, 1996 at the age of 82. He is survived by his five sons (Mike '62, Dan '71, Jim '72, Ed '76, and Bill) and three daughters (Patty '63, Barbara, and Kathryn '69).